IRONMAN Washington 70.3 Race Recap
Normally, most people write up their race recaps in the hours after their race (or maybe a day or two later) - call me a slacker, but here I am doing it a full 3 weeks later...
Training season
I've been doing triathlons for nearly a decade now, but they've all been Olympic distance: 1500m swim, 40km bike, 10k run. In 2017-2018 I did the non-traditional Escape from Alcatraz events, which lengthen the swim, shorten the bike, and lengthen the run, but I'd still classify as "Olympic-ish." 2020 was the year I finally committed to trying out a half-Ironman, which if you're not familiar with the distances is roughly twice as far as an Olympic distance event: 1.2 mile swim, 56 mile bike, and 13.1 mile run.
As we're all very aware at this point, the pandemic put an end to many activities in 2020, triathlons included. I'd started my training schedule and ramped up a little bit, but with pools closed I was simply using StretchCordz to simulate swimming and getting a little bit of biking and running in. It became pretty apparent by early summer that races weren't going to happen, and I fell off the proverbial bandwagon of training, so to speak. Through the late summer and into early winter I didn't really do anything, and while I did ski a little bit over the winter, it wasn't enough to really get me in shape.
March 2021: Aside from skiing, I've done two bikes rides and a single run since September. I'm not really fitting into my clothes that well, and I start logging what I eat and regularly weighing myself. I peak a few days later at 173 lbs. I don't actually start training yet, although I did get a random 5k in just because it was nice out.
May 2021: This is the start of my formal 20-week training season. Since the first year I started doing triathlons, I've used a spreadsheet that maps out my planned swim, bike, and running activity every day of the season. You can see my 2021 calendar here if you're curious to see all the details. Like all years, things start out pretty easy (2-3 mile runs, 15 mile bike rides) and then I ramp up slowly over time to build a base larger than each individual event, and taper the last 1-2 weeks.
A few alterations I made this year compared to prior ones:
I did a 20-week training season instead of 16. Given the additional distance I needed to train up for, and many training schedules you can find online are this length, it seemed the right strategy.
Rather than a pure progression build, roughly every 4 weeks I made my plan back off the gas a little bit, and give me some recovery time. I was able to line up some of these to crunch times at work, which bought me a little extra time on key weeks I needed to focus on that.
From week 14 onward, I took advantage of a once-every-5-years perk for employees at Facebook: you're granted a 30-day "recharge" leave of absence, to which you can add your own additional 2 weeks of vacation time. This amounted to almost 7 consecutive weeks off, and I intentionally planned this time off to coincide with the final 5 weeks of base training and 2 weeks of taper, up through race day. This meant that my longest training rides/runs of the year I didn't have to balance alongside work obligations, and in fact I shifted my long training days to weekdays as I had the time available.
I also joined the Seattle Green Lake Triathlon Group on more of their structured activities throughout the second half of summer - I was a regular at the Wednesday GLOWS and Tuesday HTFU sessions. These tended to be "light" sessions for the base I was building up, but just having sociat interactions instead of doing everything solo was really nice.
Notable training efforts and goals
Training itself went exceptionally smooth this year. My only injury was about 2 weeks prior to race day, where changing a flat tire I managed to dig my rear cassette under my thumbnail, which kept me from swimming for a few days as it was a hard wound to clean. During the training season I had a few days where I specifically focused on nutrition, and was able to really dial in my sweat rate (I need about 20oz/hour to replace fluids) and tolerance for caloric intake (I can do about 270 kCal/hour running, and 330 kCal/hour biking - well below what I'm expending but that's considered normal.)
By mid-late August I'd gotten up to and past race distance - I did a test ride of the course with a bunch of other athletes in 3:10, and much later in the day completed a half-marathon run at a 10:30/mi pace. I knew at this point I could finish the race, and the remaining month would determine how well I'd finish.
About the same time I'd reached these milestones, the SGLTG crew was getting geared up to do their own unofficial Pizza Tri - what started as one member's wish and idea really got legs, and ended up becoming much like a real event with bike racks condoned off into a transition area, aid stations for the bike and run (with pizza, of course!) and some cheering spectators. I'd reached the point where I was pretty confident in my ability to finish that distance race, with perhaps a bit of a longer-than-usual break here and there. With a field of about 20, I was second out of the water, did the bike in about 3.5 hours including a mid-way stop to use the bathroom and eat pizza, and completed the exceptionally flat run just under a 10-minute mile pace.
My peak run for the year ended up being a bit over 16 miles, where I held a 9:30/mi pace past the half-marathon mark and failed to maintain my nutrition for the last 4 miles or so. My peak ride was more of an epic day out adventure biking to North Bend and back, where my pace was significantly slower but I covered 80 miles including a fair amount on gravel.
As this was my first half-Ironman, my primary goal was to finish the race. But the Pizza Tri basically achieved that goal for me, so I sat down and thought about what I could realistically set for a secondary goal:
I'm an incredibly consistent swimmer - I knew I'd finish in about 30 minutes, give or take a minute.
I'd test-rode the bike course in 3:14 (3:10 moving average) and was pretty confident I could do 3:10 on race day.
I knew I could maintain a 10:00/mi pace on the run, meaning about 2:11.
Sum those times up and you're at 5 hours, 50 minutes. You need some time for transitions T1 and T2, and 5 minutes each felt about right there, so going in to the race I was really feeling like I might be able to hit sub-6-hours.
Pre-race
I'm not a morning person and the time off from work didn't help my sleep schedule, but there's really no choice on race day - up around 4am, eat breakfast and drive the 45-50 minutes down to Maple Valley. This venue didn't have adequate parking, so we were assigned a parking spot about 2.5 miles away at a school, and they had busses shuttling athletes and spectators to the venue.
I think I got there around 6am. Race day was cold and forecast to be rainy. It felt like a lot of time to kill and they weren't allowing warm-up swimming in the lake, so I delayed getting out of my warm clothes and into a wetsuit for a while. I showed Margot around to point out where different parts of the transition would be, and stood in line for perhaps 20 minutes waiting to use a porta-potty.
At that point I was running late to get transition set up - they'd announced they wanted to close transition at 6:45am for a 6:50am start, and it was about 6:35am. At least the transition wasn't crowded, but I definitely felt rushed getting my area set up. I put chemical hand-warmers in my bike shoes so they'd be nice and toasty when I put them on. I later realized I forgot to apply body glide to my neck; this normally keeps me from getting a rash from the wetsuit, but the tri-suit I was wearing ended up coming up above the neck of the wetsuit so it was unnecessary.
Leaving transition they were already playing the national anthem. The race was a self-seeded chip start, releasing 3 athletes into the water every 5 seconds. They had volunteers with signs showing expected finish times: under 27 minutes, 27-30 minutes, 30-33 minutes, all the way up to 60 minutes. I knew I should be at the border between the 27-30 and 30-33 group, but by the time I got there everyone was already lined up and I was at the back of a 1500-person crowd. I started pushing my way through the crowd, winding around the shore, and made it to the back of the 30-33 group when the line entered the official fenced-off funnel to the start. There were only about 100 people ahead of me and I figured this was good enough so stopped pushing my way forward. I ended up right next to Thomas, one of the other SGLTG regulars, so I ended up having someone to chat with while we waited for the start. The 6:50am start was delayed to about 7:00am, and once things go going, it was only a few minutes to shuffle forward and get going.
The chute to start spreads out into 3 lanes, and there's a soft series of 4 beeps followed by one louder, distinct beep - that's your signal to go. The shore was a bunch of small rocks and not knowing the bottom surface in the water I didn't go too fast, but was still able to get ahead of the other swimmers in my 5-second wave and quickly get horizontal and swimming. The wave starts really do cut down on the amount of elbowing and kicking you have to deal with, especially at the start. I was able to settle down by the first buoy and worry less about whether I was breathing into someone's splash.
The course was a mostly-clockwise rectangle, and unlike the Green Lake buoys I'd been practicing sighting throughout the summer, these were huge and easy to sight. I'm generally a really straight swimmer and did a great job through the swim. Because I started a little later than my expected seed time, I was generally passing people throughout the swim and saw very few people passing me. This may have cost me a few seconds total; I can think of one spot where I got boxed in and had to slow down and cross over someone to make a pass.
At the south end of the lake (about 60% of the way done with the swim) I had two thoughts:
All the red turn buoys are right-shoulder buoys except the final one, but I don't understand why I should bother swimming towards the next one vs. swinging wide and aiming for the next red buoy directly. This ended up being a bit to my advantage; I feel like they should make this a left-shoulder buoy if they want to prevent people cutting here.
I felt like I needed to pee. I don't know what it is about me and triathlons, but race morning I usually find myself needing to pee like 3-4 times before I leave the house, again before the race, etc. Good thing I'm hydrated, I guess. For those wondering: no, I did not pee in the lake, but it wasn't for lack of trying - it's just really hard to do while you're actively swimming.
Near the end of the swim they have two red buoys you swim between (the only left-shoulder turn of the course) and I mis-sighted the finish chute. I ended up about 5 yards north of the orange sighting buoy, but everyone was south of it. I was pretty sure it wasn't a DQ to go on the other side of it, but decided to make a quick 90-degree turn to round it on the south side alongside everyone else, just in case I missed something. This probably cost me 10-15 seconds.
Coming out of the water I was able to see Margot cheering me on, and it was a short trot with cold feet to the transition area.
Official time: 0:29:41, 6th in my age group, 30th among men, 42nd overall. The fastest in my age group was a 28:26; I don't think I could have shaved that much time off, to be honest, but at 29:00 could have taken 2nd place in my age group here. Basically, I'm a good swimmer and there's not much opportunity to drop here.
I got to my bike, dried off my feet, put on some thick socks, and jammed my feet into my shoes - and promptly remembered there was a chemical warmer in there, so they didn't fit. Whoops. Take off the shoe, and then fight a calf cramp from trying to awkwardly maintain balance. I gave up, sat on the mud/grass to finish getting my shoes on.
One thing I left as a T1 decision was what jacket to wear, if any. I brought a jacket that has tear-off sleeves so it can be worn as a vest. I decided that the vest was all I needed, and I ended up making the right call - I appreciated having the windbreak on my core, but I think I'd have overheated a little with my arms and shoulders more covered. While I could have pulled the sleeves off, I wasn't confident doing that while riding, so it'd mean stopping briefly to do so - but I didn't even bother bringing them with me, so no issue there.
I also meant to eat a gel in T1 before getting on the bike for a quick hit of nutrition, but forgot to do so.
Official time: 0:06:25. As I hopped on the bike I was thinking I'd under-estimated the size of the transition area and how far I'd have to jog (swim --> bike --> mount line, mount line --> bike rack --> run start) and my 10 minutes total transition time was looking a bit optimistic.
I could tell when I got on the bike that I was very early on the course; there were very few people out there and I knew a lot of stronger cyclists would be passing me. I also knew I was a faster swimmer than Thomas but he was a much faster cyclist and had a very distinctive bike, so I was on the lookout to see him pass me - while he definitely did pass me, somehow I never noticed and didn't see him until the run.
The bike itself was cold and intermittent rain. Not the typical Seattle drizzle; it was cycling into a real rainstorm that'd last 5-10 minutes and then go away. I spent most of the ride with completely sodden socks; my toes would definitely have appreciated a bit more warmth. It also meant my visibility through my glasses was a little compromised; there was so much rain on the lenses it made it a little hard to see through. This would eventually clear up when we got out of the rain and the course was very well-marked, so overall it wasn't a huge problem.
My nutrition plan for the day did not get off to a great start. In the weeks leading up to the race, I'd become fond of taking a flour tortilla, smothering it in peanut butter and rolling it up into a cigar shape. This is good for about 400 easily-digestible calories, and I found I could eat this over the course of an hour pretty easily. In training I'd wrap this in aluminum foil, and I could bite and pull it out as I went, sort of like a tortilla push-pop. What I failed to train for is doing this in full-finger gloves. All my training was in warmer weather with fingerless gloves, but today I opted for my fall/spring season full gloves, which trade some dexterity for warmth. I was glad to have these gloves, but I ended up crimping the tortilla such that I couldn't get more than the first third of it out of the foil.
Rather than stop to deal with it, I decided to rely more on the on-course nutrition - I brought two quantum bars with me, and they'd have more for me on-course. I'd also filled two water bottles with the on-course Gatorade Endurance, and expected to need to throw away one bottle during the ride to get a 3rd fresh one. It was so much colder, however, that I didn't sweat nearly as much and only ended up drinking about 24oz over the entire bike ride - I could have skipped the second bottle entirely! I ended up eating 1/3rd of my tortilla, and and two quantum bars. This is about 713 calories, when I should have been up over 1000. Whoops.
The course itself was honestly pretty uneventful. I was very happy I'd ridden the course beforehand so I knew roughly what was coming. The time passed pretty quickly, and by about mile 15 the rate of people passing me slowed down significantly. There were a lot folks on the side of the road with flat tires; I thought they did a great job sweeping the course for debris but there's only so much you can do when there's an active rainstorm. The road grime was bad enough that I had to wipe off the screen of my Garmin by about mile 30 just to see it.
Remember earlier I said that I had to pee back during the swim? This ended up being one of the main things occupying my mind throughout the bike. I knew my only options were the 3 aid stations, and I really didn't want to stop at these if I could avoid it. It was pretty easy blowing past the first aid station, but the second and third I spent a lot more time thinking whether I could make it to the next one without issue. I ended up not stopping at any of them; merely slowing down to grab nutrition and continue on.
The last 2-3 miles of the bike course were new to me, as I'd gotten off-course in my test ride. This included a dip into a valley under a bridge, then a short climb back up, and going under the bridge the road narrowed and it was signed as a single-file no-passing zone. I happened to be right behind someone as we came to this, and afterwards I never saw a sign saying where the no-passing zone ended. I held back for a good half mile waiting to see that sign, and eventually gave up, assumed I'd missed it, and powered ahead to the transition area.
Official time: 3:05:12, 71st in my age group, 405th among men, 507th overall. I was pretty happy seeing this, as it bought me 5-10 minutes below my expected times, making a sub-6-hour finish more likely.
Before entering T2 I was pretty worried about the state of my socks. Back in T1 it was actually looking pretty nice, weather-wise, and I hadn't done anything to protect my run shoes/socks from the rain. Assuming it had rained here while I was out on the bike course, I could be coming back to wet socks.
For context, the hardest thing I've dealt with in my run training has been blisters. I get truly debilitating blisters if I don't do everything right - to the point that I literally can't walk for days. The only formula I've found that minimized them: gold bond or body glide all over my foot, then a layer of socks with individual toes sewn in, then a normal pair of running socks, then my shoes. It reduces the friction enough to keep my feet from killing me, but it also starts failing as my feet sweat too much or my socks get wet.
Fortunately, my socks were dry. I had a much easier time than T1 (no cramping) getting changed into fresh socks and shoes. I'd forgotten to set out my race belt with my bib, so I had to spend a few extra seconds digging around for it in my backpack before setting off.
I also forgot to take off my non-prescription bike glasses (since I was wearing contacts) - this didn't really affect me as I'm used to wearing glasses, but they were unnecessary for the run.
Official time: 0:05:56.
The very start of the run is a bit of uneven terrain on grass with some very short, steep segments, making it a bit hard to get into a rhythm. By the 0.5-mile mark, however, we were on the trail and conditions were great - hardpack gravel, a little more cushion than pavement but nothing needing trail shoes.
The next mile or two is a gentle downhill, which I found helped get me set into a pace and get my breathing under control. I ended up almost perfectly paced with another athlete and we chatted for a bit. As my feet warmed up, it felt like my toe socks were on incorrectly, where I'd somehow missed a spot and crammed two toes into one hole. It didn't feel uncomfortable though, so I figured I'd just continue on and find out after the race finished what I'd done.
Especially knowing I was about 300 calories short of goal, my plan for the run was to walk each aid station, drink 2-3oz of gatorade, and pick up some solid nutrition to eat in between aid stations. IRONMAN events are notorious for having some of the best aid station options, so I was kind of looking forward to the running buffet. They had Gatorade, water, Red Bull, Coke, chips, bananas, fig bars, and Maurten Gels. I knew from practice that I should start with solids, as I'll gradually start rejecting foods, shifting to gels, then just water, and eventually nothing.
For anyone that does distance running, you probably have an opinion on gels. These are single-use packets typically containing 100 calories of easily-absorbed nutrients - basically all sugar/carbs and no protein. I'm partial to Clif Shot brand, which has the consistency of a very reduced syrup like molasses. I'd ordered a test sample of Maurten gels to practice, and they're very different from everything else on the market. First, the consistency is more like Jello than syrup - it's a greater volume of stuff and you can sort of bite it, but I wouldn't call chewing strictly necessary. Second, it's completely unflavored. The first one I tried in practice was the caffeinated one, which was bitter and nasty, and has 4 times the caffeine my normal gels have. The uncaffeinated ones were fine, but expensive enough I wouldn't be buying them for training runs.
It's been long enough that I don't remember exactly what I ate when on the course, but I can say that I did stick with Gatorade until about mile 10, after which I had a water and another Gatorade then no more fluids for the last 2 miles or so. I remember eating a packet of fig bars and feeling like it took too long to finish it (probably 4-5 miles) and I'd have been better off trying to find another quantum energy bar as they're denser calories.
On the run one of the more entertaining things to do is people watch. I was fast enough that the first place finishers had not finished yet, so I got to cheer them on near the start of my run as they pushed towards the finish. The first place male athlete had a truly insurmountable lead; he finished almost 13 minutes ahead of #2 so there was more than a mile gap between them by then. I later saw and cheered on SGLTRers Joseph (who returned a grimace of pain/effort back) and Thomas (whom I wondered what had happened on the bike - he was a few miles ahead of me at this point and seemed relaxed and enjoying the run.)
Remember my saga with having to pee, starting midway through the swim? I started the run feeling okay, like I might make it all the way to the finish line without stopping. This didn't last long though. I started negotiating with myself as to whether I was on pace to beat a 6-hour finish time including a bathroom break. This involved a fair amount of mental math keeping me busy; I knew what my total elapsed time was as well as my pace, so each mile I'd check and see whether I was maintaining a pace that'd give me enough buffer to stop and pee. Although I did have the buffer time at this point (by my estimate I'd come in about 5:45 without a stop) eventually the decision to stop was mostly forced on me - I started developing a cramp that was more about my bladder than any muscle group from the race. Just before the turnaround at mile 6, there was a cluster of 4 porta-potties and I pulled off course to use one. I was wearing a one-piece tri suit, so actually using the bathroom was a bit more involved than usual - basically peeling everything off until it's down at my knees, then suiting up again in damp clothing. By the GPS data I lost about 2:20 to this stop, although it did also give me a chance to get my heart rate down and relax, so I'm sure I regained some of that time once back on the road.
The second half of the race my tolerance for nutrition waned, and I did slow down around mile 11-12 a little bit, but still kept under a 10:00/mile pace. The last 2 miles are a gentle uphill, and I saw a lot of people really slow down here. About a mile out I started to pick up the pace with what energy I had left, and passed quite a few people.
About a half-mile from the finish chute, I took off my glasses and put them in my back pocket (not comfortable, but I wanted finish line photos without them.) I actually got a little emotional running through the finish chute - I was thinking about the amount of training time I'd put in to hit this goal, the amount of time I'd been continually working so far today, running on an actual red carpet... it was a lot to take in and a great feeling.
Official time: 2:02:16, 80th in my age group, 433rd among men, 571st overall. Looking back at it, I'd love to have a half-marathon time under 2 hours, and if I hadn't stopped to pee, I might have reached that. One shouldn't retroactively set goals though; that can be for another race.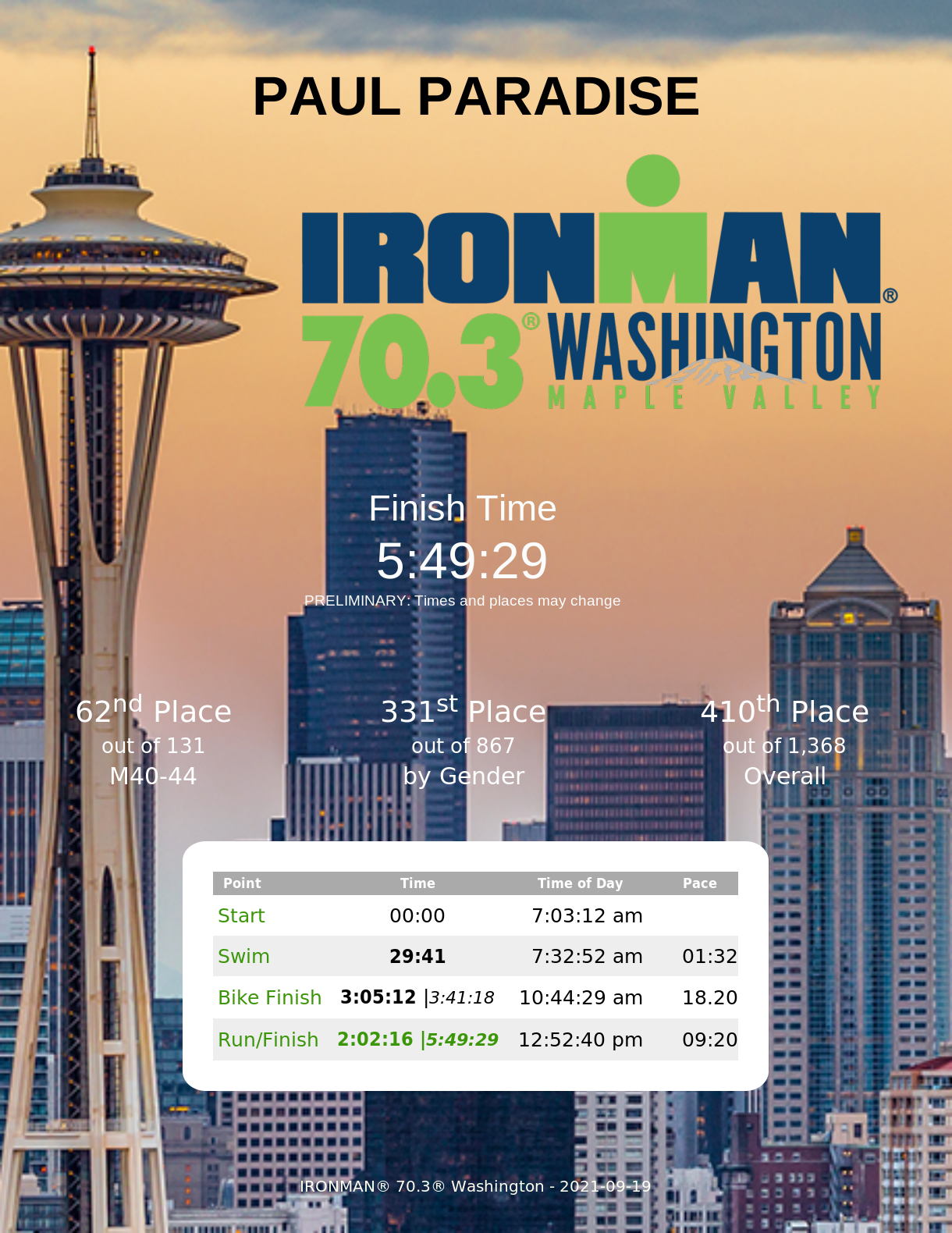 Overall time 5:49:29, 61/131 in my age group, 331/867 among men, 410/1368 overall. I met my "A" goal of finishing, and my "B" goal of finishing under 6 hours. I'm better than 50th percentile in all the measures, which is honestly pretty great for me on the very first half-Ironman I've ever done.
Post race
Immediately after finishing, the volunteers were great. It was clear they were experienced with athletes giving it their all, because they sort of held me firmly by the shoulders so I wouldn't collapse, handed me a water bottle, and said "most important thing first - did you stop your Garmin?" Then they took my timing chip, and it was off for photos with the IM70.3 backdrop and post-race food. They had personal pizzas, sandwiches, grapes, bananas, oranges, cheetos, coke, non-alcoholic beer, etc.
Margot reconnected with me and got me situated in the folding chair she'd brought. I finished the pizza myself, but started cooling off pretty quickly. I hopped back into the athlete area to grab a mylar blanket with helped a little bit, but maybe 10 minutes later I was shivering. I took the change of clothes from Margot and found a porta-potty in the transition area and changed into dry clothes inside; not the most appealing place to change clothes but at least it was out of the rain, which had picked up and gotten pretty heavy now.
Given it was cold and wet, there wasn't much motivation to stick around after the race any further. I packed up my transition area and we started the long walk back to the shuttle busses. This was really disorganized as there were 3-4 different shuttle options and nothing was labelled. The bus we were supposed to get on didn't have room for my bike on the rental van that accompanied it, so Margot took the bus herself, retrieved the car and drove back to pick me up. I managed to find a spot out of the rain for the 30 minute wait.
When I got home, the first time I weighed myself was after I'd taken a shower, but also had a large chocolate protein smoothie, the rest of a fruit smoothie from breakfast, the rest of the tortilla and peanut butter I'd failed to eat on the bike course, as well as the coke + water they offered my just after finishing. I was still about 2 lbs lighter than I was at the start of the day. On hot training days I'd lost 4-5 pounds, so all in all I felt like I did okay on fluids and nutrition.
I ended the season weighing 143-146; almost 30 pounds lighter than I began. It's enough weight loss that it's visibly noticeable; my face is a little slimmer, and those pants that I was having a hard time fitting in are now not fitting in the opposite direction where I need a belt to keep them on.
These past few weeks I pretty quickly ramped down to an off-season schedule; I've had a few moderate-distance runs but my biking has mostly stopped. I've got to see what I can maintain during the winter season with warmer clothes, tolerance for rain, and some time on the indoor trainer. If I could start my ski season in the 140's and with strong legs I'd love to see how it impacts my skiing ability, so that's my near-term goal.
As for next year? I won't have the benefit of taking 7 weeks off work to train, so I don't think I'll be setting new personal records. I would still like to do it again, but I'll have to see how I do with a scaled-back training regimen. I think I can probably do well using about 5-6 days of PTO to handle the absolute peak training days, and fit the rest of the long exercise into weekends.